Our Partnerships
Membership
Digital Skills and Jobs Coalition
The Digital Skills and Jobs Coalition brings together Member States, companies, social partners, non-profit organisations and education providers, who take action to tackle the lack of digital skills in Europe. The Coalition tackles the need for digital skills of four broad groups: Digital skills for all – developing digital skills to enable all citizens to be active in our digital society; Digital skills for the labour force – developing digital skills for the digital economy; Digital skills for ICT professionals – developing high level digital skills for ICT professionals in all industry sectors; Digital skills in education – transforming teaching and learning of digital skills in a lifelong learning perspective, including the training of teachers.
EuroGender 
EuroGender is the European Institute for Gender Equality (EIGE)'s online cooperation and consultation hub that allows all its members to share knowledge and contribute to advancing gender equality in Europe and beyond. The EIGE is governed by a Management Board consisting of eighteen (18) representatives nominated by the Member States (on a rotational basis) and one (1) representative from the European Commission. To facilitate effective decision-making of the Board, a Standing Committee discusses and guides EIGE in the preparation of the documents for the Management Board meetings. The Institute has an advisory body - the Experts' Forum - comprised of 33 members (28 nominated by the Member States, three representatives from the European Commission and two representatives from the European Parliament). Besides this, some members of the Experts' Forum contribute with their expertise to the work of EIGE's permanent Working Groups and its Thematic Networks.
European Forum for Primary Care
The European Forum for Primary Care was initiated in early 2005 by a group of interested parties from several countries. The aim of the Forum is to improve the health of the population by promoting strong Primary Care. This is done by advocating for Primary Care, by generating data and evidence on Primary Care and by exchanging information between its members. The Forum connects three groups of interested parties: the health care field, health policy makers, and the producers and evaluators of health care information. These interested parties work at three levels: the local or district level, the national level, and the supra-national level. By linking policy practice and research the Forum intends to stimulate policy making based on vision and evidence as much as it intends to support Primary Care practice oriented towards quality and equity.
VAS
VAS is a European Scientific non profit Association whose mission is to contribute to the development of Angiology/Vascular Medicine, in multi-center co-operation amongst clinicians and researchers throughout Europe and Worldwide. VAS is determined to achieve high Quality results with Independence from any economic interest and enabling Collaboration amongst its members.The triad Research - Education - Clinical Practice has been at the core of VAS culture right from its inception, to exploit the synergy between education and research and ensure the timely implementation of results in clinical practice.
Stakeholder Partners
NESA - New European Surgical Academy
The New European Surgical Academy (NESA) is an international, interdisciplinary organization with members in 54 countries and associated with international organizations like FIGO, the German Gynecological Association, the Danish Surgical Association and the Hong Kong Medical Academy. NESA modifies and improves surgical procedures, has created the first European working group for natural orifice surgery and created new concepts for post-operative oncological treatment. NESA initiated and performed the All-African Surgical Database project.
EU-US eHealth Project
The EU-US eHealth Project aims to Map Skills and Competencies, Provide Access to Knowledge Tools and Platforms, and Strengthen, Disseminate and Exploit Success Outcomes for a Skilled Transatlantic eHealth Workforce. The overall goal of the EU*US eHealthWork Project will be to measure, inform, educate and advance eHealth and health information technology skills, work and workforce development throughout Europe, the United States and globally.
H-Com
The general objective of the H-Com project is to build and strengthen communication skills of health professionals (with a focus on medical doctors and nurses), so as to improve patient – professional relations as well as inter-disciplinary communication. The project's long term goal is to create a comprehensive and validated learning tool for the improvement of skills and competencies of health professionals in communication, and ultimately improve health outcomes among patients across the EU.
EUFOREA
EUFOREA proposes to reduce the preventable and avoidable burden of morbidity and disability due to chronic airway diseases by means of a multidisciplinary practical approach with all stakeholders at national, regional and global levels, so that populations reach the highest attainable standards of health and productivity at every age and those diseases are no longer a barrier to well-being or socio-economic development. Given the novel scientific data on prediction and prevention of allergic and airways diseases, the cost of inaction is unacceptableand there is an urgent need to undertake integrated actions in Europe joining forces in a multi-specialty way with all stakeholders.
MedLang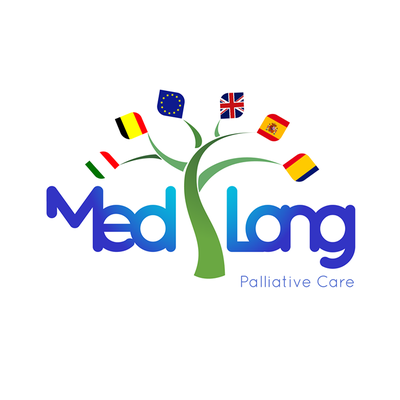 The aim of the project is to create open digital educational resources in the field of palliative medicine based on developing innovative guidelines on standardized fundamental medical protocols, clinical language and communication skills. These guidelines will support the learning/teaching processes of the medical lecturers, language teachers who teach medical students, medical students, and lay people involved in causalities. Palliative care must be an integral part of a country's health care system, and as such it must be an element of comprehensive health care plans, and of specific programmes concerning, for instance, cancer, Aids or geriatrics. Aiming to maintain the best possible quality of life for patients with advanced diseases, it requires a coordinated input from a highly-skilled and adequately resourced interdisciplinary and multi-professional team.
InterHealth
The InterHealth Project is aims to address the current training needs of healthcare professionals through innovative training products and reaching out techniques, namely the InterHealth Curriculum, the InterHealth Mobile Application and the InterHealth Forum.
English for Nurses
English for Nurses runs language courses that are written and delivered by experienced nurses. EfN aid the professional development of nurses, midwives and healthcare professionals who do not have English as their first language, where the ability to communicate effectively with English-speaking patients and colleagues is a key element of their job.