Provisional Conference Programme: INHWE Online 2021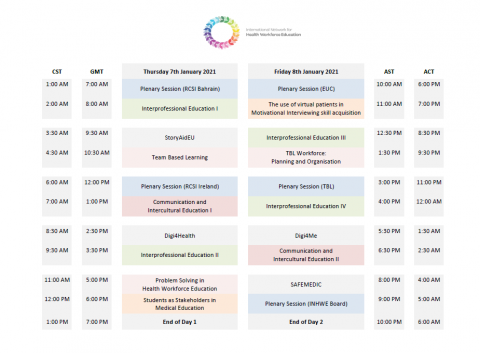 The International Network for Health Workforce Education is very pleased to announce that the Provisional Programme for the upcoming 3rd European Conference of Health Workforce Education & Research is now available online. The Conference will take place virtually, online with the support of our hosts at the Royal College of Surgeons in Ireland's Faculty of Nursing & Midwifery on Thursday 7th and Friday 8th January 2021. The event runs across multiple time zones (and streamed live on YouTube) which will hope will enable many of our members to attend.
Programme: https://inhwe.org/conference-programme-inhwe-online-2021
Registration: https://inhwe.org/registration-and-fees-inhwe-online-2021
Due to our excellent collaboration with the RCSI Faculty of Nursing & Midwifery we are delighted to be able to offer free attendance to the event for all INHWE members.