New Board Member: Professor Arie Rotem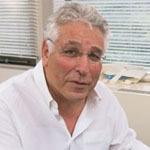 We are delighted to announce that Professor Arie Rotem has joined the Advisory Board of the International Network for Health Workforce Education. He brings with him a wealth of experience to help shape the future strategic direction of the organisation. During his time at the University of New South Wales in Australia he served as Head of the School of Medical Education and also held position of Director at the World Health Organization Regional Training Centre for Health Development. Since becoming an Emeritus Professor at the University of New South Wales he now acts as a consultant for governments and international agencies, working in over 20 countries to improve health systems development, human resource for health and health professional education.
Prof. Rotem has also led a number of major reviews commissioned by the Australian Government on the education and training of the public health workforce in Australia. He also serves on national and international committees related to health development including being Chair of the Australian Network of Academic Public Health Institutions (ANAPHI). With a passion for improving health professional education he continues to contribute to workforce development by working as a consultant for international agencies and governments while teaching regularly in a number of Universities including Ben Gurion University of the Negev (Israel) and the National Institute of Public Health (Japan).
You can see our full Advisory Board here.